The settlement history of the "Franconian Rome" – as Bamberg is sometimes referred to – reaches at least as far back as the 8th century. The more prominent history starts just before the turn from the Early Middle Ages to the High Middle Ages, when the diocese Bamberg was founded in 1007 by King Henry, who would later became Emperor Henry II. The Altstadt with the cathedral was declared a World Heritage Site in 1993 by the UNESCO as it is one of the biggest old town quarters with a still intact medieval appearance.
Bamberg's town history is also inextricably linked to the history of beer: brewing has been a craftsmanship in the region since the Middle Ages and Upper Franconia boasts the highest brewery-density per capita in the world with about 300 breweries to a population of about 1 million people. Nine to eleven of those breweries are in the township of Bamberg. A comparatively small number: in 1818 there were 65 breweries operating in Bamberg.
With about 13.000 students making up for over 16 percent of the population (around 77.000 people), Bamberg is not only a town rich with history, but also rich with student culture. The population and student numbers are rising as many people discover Bamberg as a very nice place to live, study and work.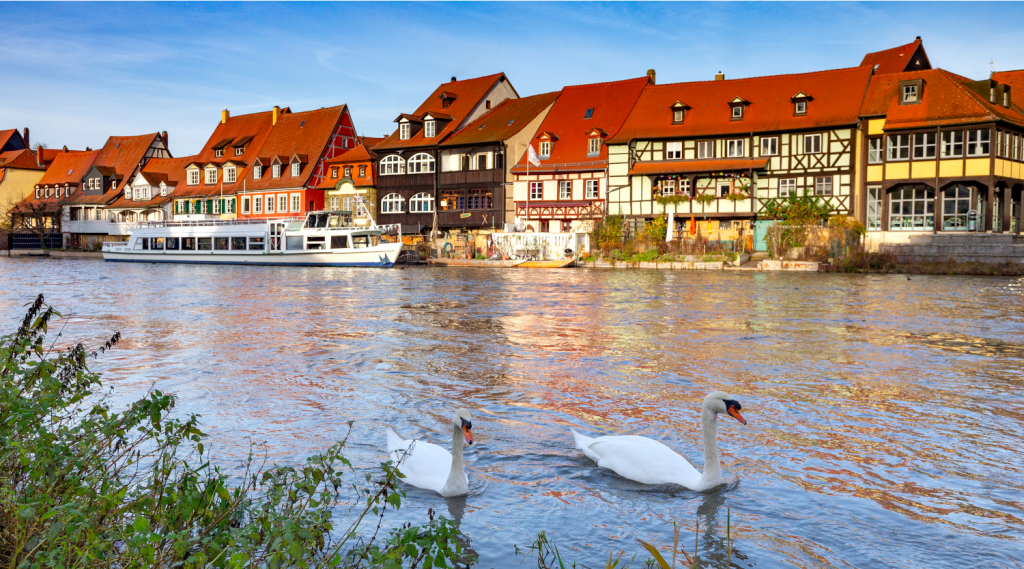 ---
---
Guided Tour "Fascination of a World Heritage Site"
(without the interior of the cathedral)
This city needs to be explored on foot! Join an experiences tour guide on a journey through 1000 years of history in the Town of Bamberg, an old town quarter which was awarded the title of World Heritage Site in 1993.
During the tour you will experience how unique Bamberg is. In the historic city ensemble with cathedral, churches and monasteries, with bridges, with alleys and squares, with half-timbered houses and baroque facades, you can still see the magic of the past today.
Please Note: Minimum number of participants: 10
Price: 10,50 € includes English speaking tour guide
Duration: 2 hours
Date: Sunday, 20.09.2020, 2 pm
---
"Hear ye people!"
(guided tour with the Nightwatchman)
"Hört Ihr Leute!" ("hear ye people") has been the traditional shout of the Nightwatchman in Bamberg for centuries. His role was significant for the medieval township: he kept it save at night, watching out for crimes and fire. Listen to his anecdotes of what happens in a medieval town at night while roaming the streets and alleys of the old town.
Please Note: Minimum number of participants: 15
Price: 13 € includes English speaking tour guide
Duration: 1 hour 15 minutes
Date: Sunday, 20.09.2020, 7:30 pm
BierSchmecker®Erlebnis (Beer-Gourmet Experience)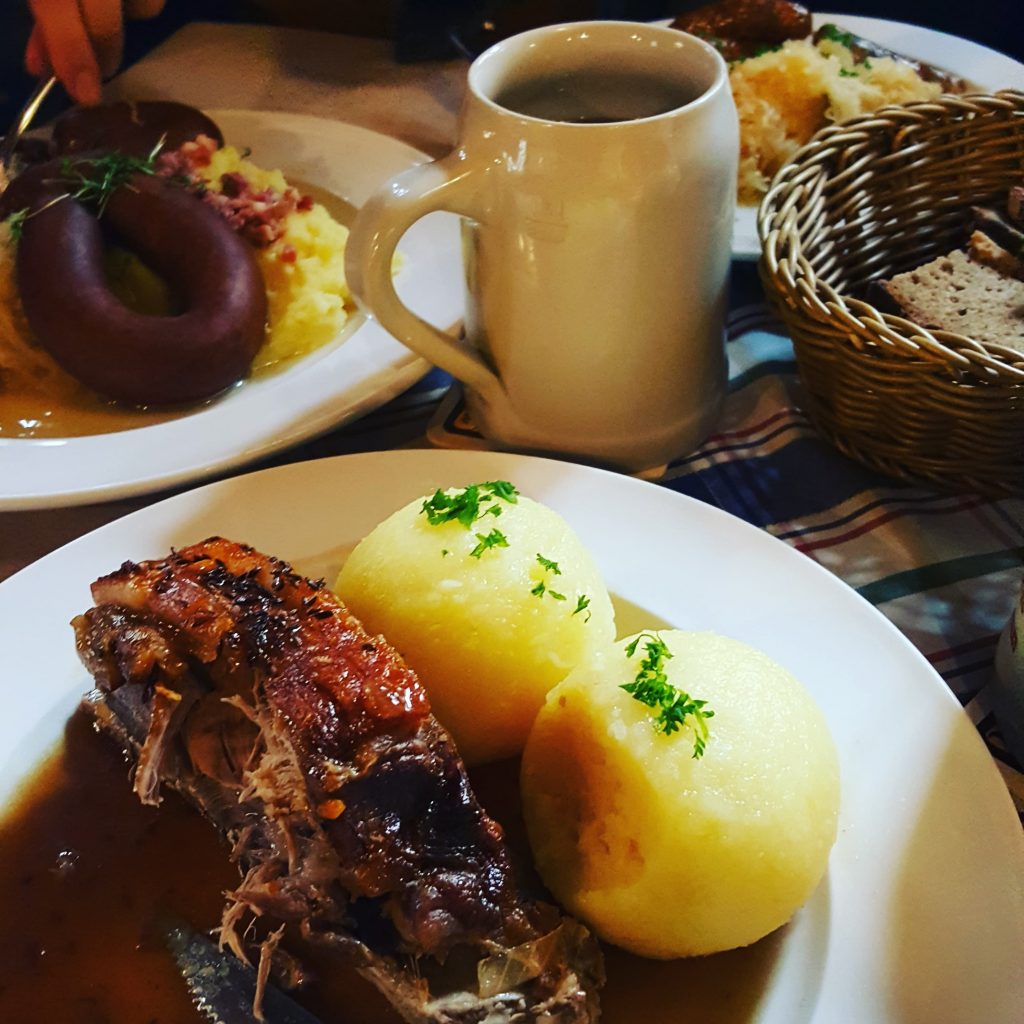 Upper Franconia has the highest density of breweries in the world. Bamberg is no exception: at least 7 breweries are situated in the town itself and several more in the surroundings of the town. "Wars" were fought over the price of beer, which is almost considered cultural property in Franconia.
Experience the BierSchmecker®-town Bamberg in its many facets on a guided tour with a commentated beer tasting afterwards, including a traditional Franconian dish.
Program:

6:15 p.m.: Guided town tour about the history of beer in Bamberg
8:15 p.m.: Commentated beer tasting: 0,1 l each of pilsner, wheat beer and smoked beer; dinner afterwards: Bamberg pork roast with crackling, savoy cabbage and dumpling
Please Note: Minimum number of participants: 20
Price: 20 € includes: English speaking tour guide, beer tasting according to program, dinner with Pork roast with savoy cabbage and dumpling (a non-meat alternative will be available)
Duration: 3,5 to 4 hours
Date: Tuesday, 21.09.2020, 6:15 pm
---
Day trip to the "Franconian Switzerland" – Castles, caves and picturesque valleys
Rabenstein Castle – nature's paradise, tourist attraction and typical Franconian food
Situated on a spur overlooking the valley of the Ailsbach river Rabenstein sits in the heart of Franconian Switzerland. It forms the center of the natural paradise Ailsbachtal (Ailsbach Valley), to which Sophie's Cave – one of the most beautiful dripstone caves in Germany -, the falconry, the tavern, the beer garden and also numerous forests and hiking trails belong.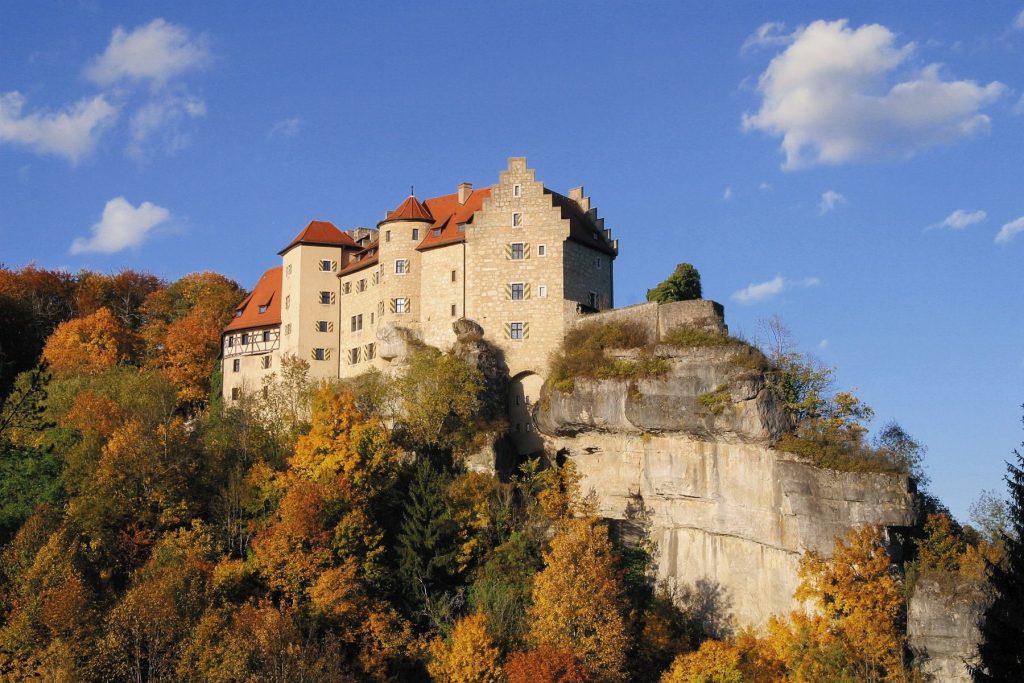 Sophie's Cave – A natural work of art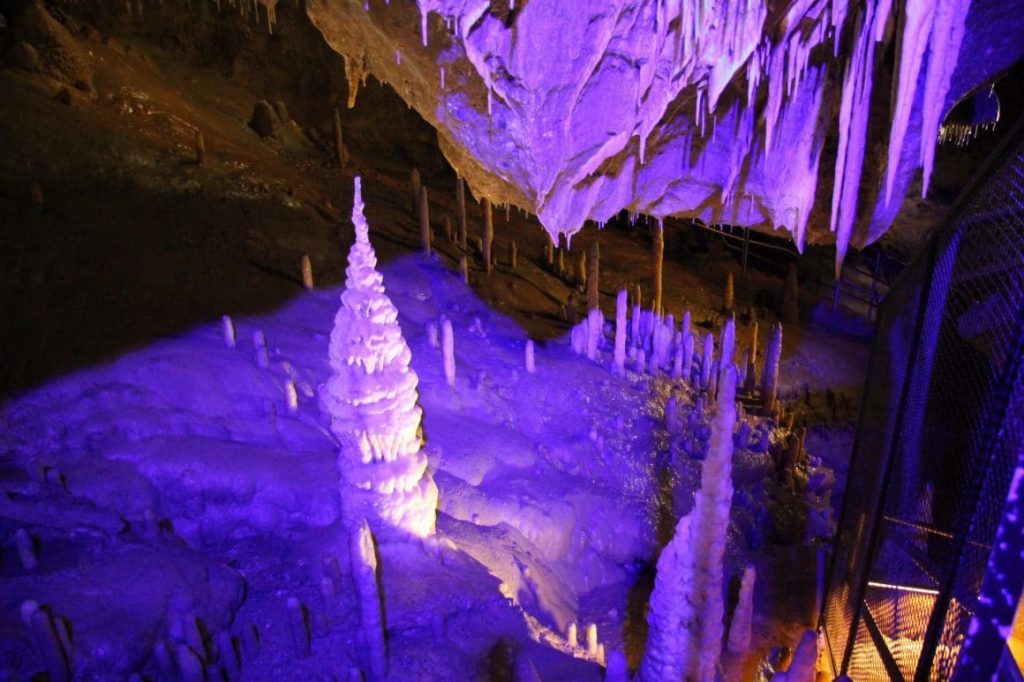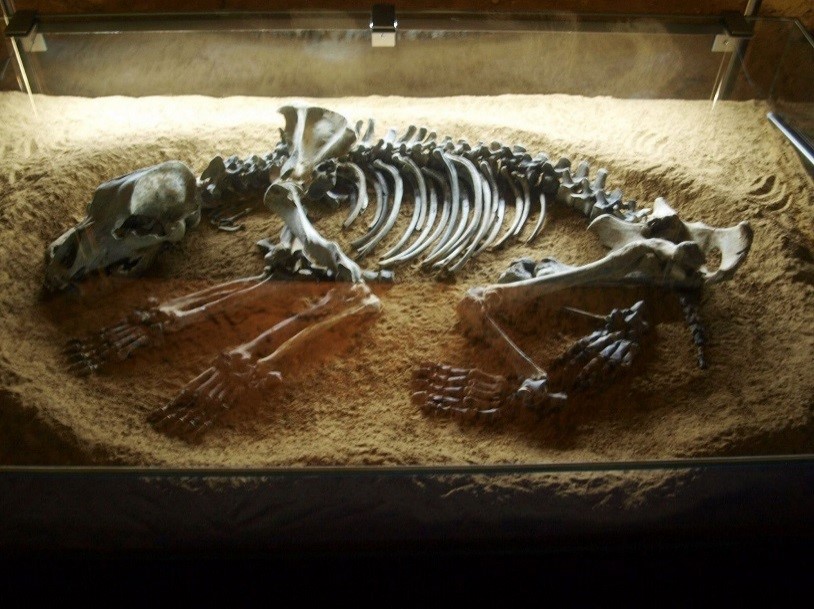 Just about a 10-minutes' walk away from Rabenstein Castle you enter an underground palace, Sophie's Cave. It is one of the most beautiful flowstone caves in Germany. A fairy-tale landscape has developed here over thousands of years, with stalagmites such as the giant "Millionaire" or flowstone draperies up to five meters long. The colors of the dripstone formations include ocher, red and brown tones and are illuminated to a magical effect. Experience this beautiful and natural wonder as it grows – microscopically yet steadily.
The falconry
With its over 80 birds – from falcons and eagles to owls and vultures – the falconry offers an opportunity to learn about hunting with birds of prey, as it was common in the Middle Ages and is sometimes still used even today. You can get an up-close look at these majestic creatures in their aviaries.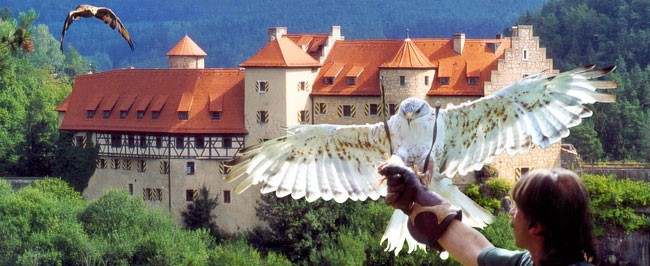 The distilleries belong to the Franconian Switzerland like the castles, caves and the beer. Roughly 300 traditional stills grow their fruit themselves on their orchards and produce spirits, schnapps and cordials. This is a promise: whoever tries one of the house brandies will never want for anything else again.
The numerous orchards characterize the landscape of the Franconian Switzerland. The majority of the fruit – including cherries, apples, pears, plums, mirabelle plums and much more – is being processed and sold locally. This is one of the reasons why there is such a high density of distilleries in the popular holiday region between Nuremberg, Bamberg and Bayreuth. Of course, local produce and a regional tradition of distilling, that has been passed down for generations, mark the quality of the various spirits.
Preliminary Shedule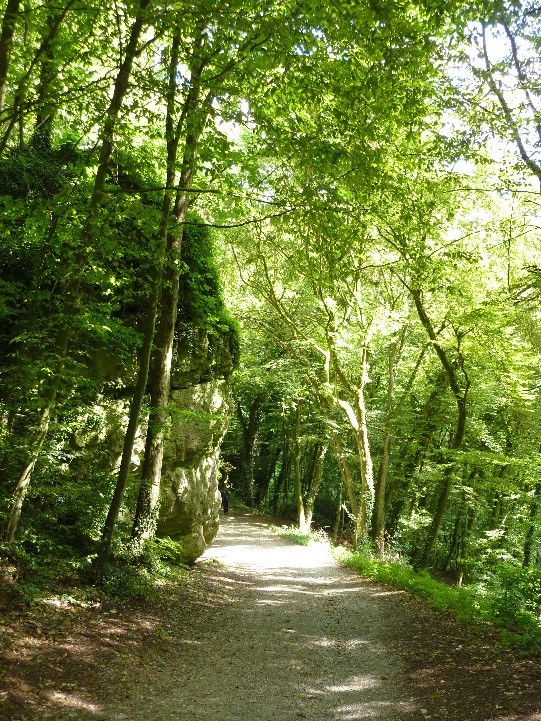 09:30
11:00
11:45
13:00
13:30
15:00
16:30
18:30
Departure from Bamberg
Castle Tour
Lunch Break
Walk to Sophie's cave
Guided tour through Sophie's Cave
Visit to the falconry
Distillery Tour (incl. snack and drink)
Return to Bamberg Surprise stop
Arrival in Bamberg
Please Note: Minimum number of participants: 30
Price: 99 €
Included in Price: English speaking tour guide, all entry fees according to program, lunch à la carte (appetizer, main course, desert, one drink), coach, snack and distillery tasting
Date: Friday, 24.02.2020
---
Day trip to Munich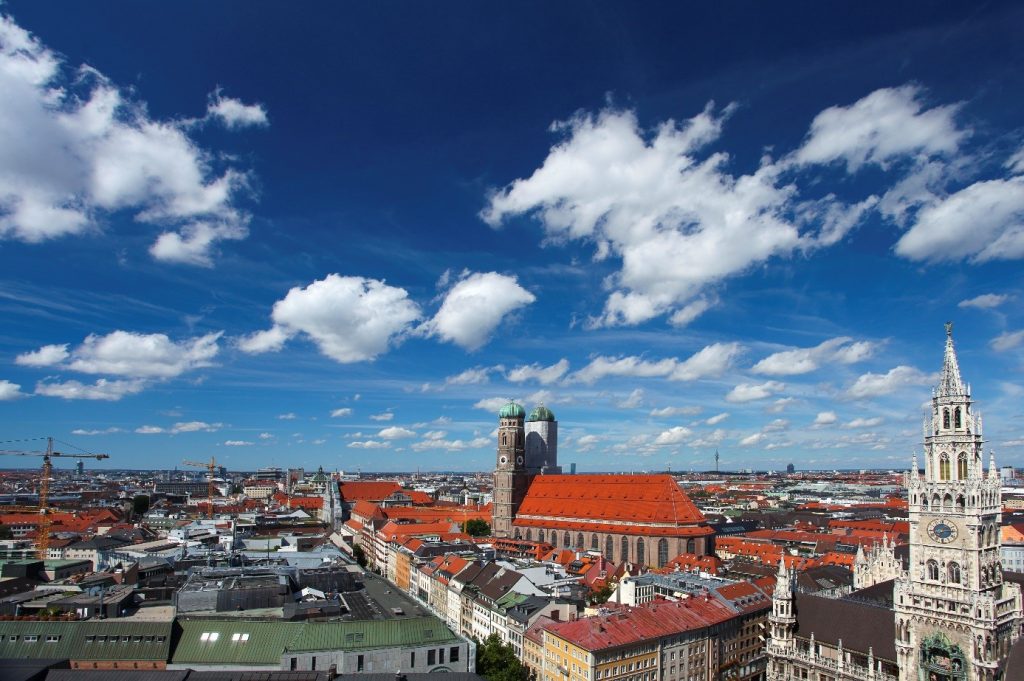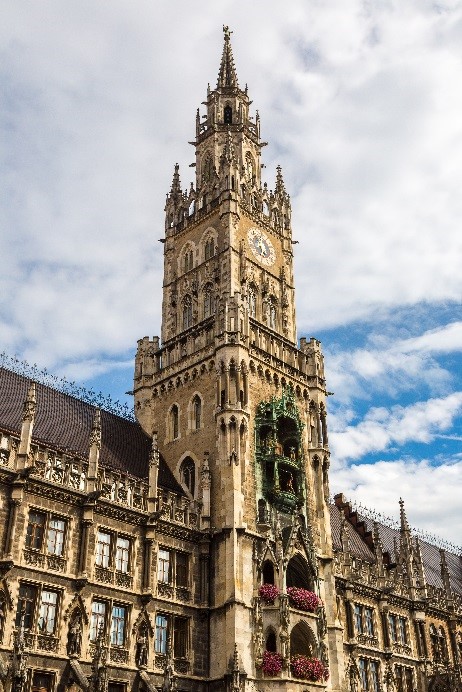 With a population of about 1.5 million people – and still growing everyday – Munich, the capitol of the Free State of Bavaria, is the third biggest city in Germany. Its history spans from a small settlement of monks in the 12th century to a buzzing, diverse metropolis today, a center of culture, science and politics with a multitude of industries, a rich cultural life and various long-established and modern culinary traditions. It is known for one of the world's largest "Volkfest", the "Oktoberfest" and offers a wide variety of attractions.
A coach will take you the three hour drive from Bamberg down to Munich, directly to the heart of the city, where your tourguides will meet you at Isartor and take you on the journey through the citiy:
Stroll through the city center
Explore the town center with a tour guide and learn about the history of Munich, its culture and its development. What is the story of Munich's foundation made it the thriving city it is today? And – of course – what about the beer?
Victual's Market Delicious Food Tour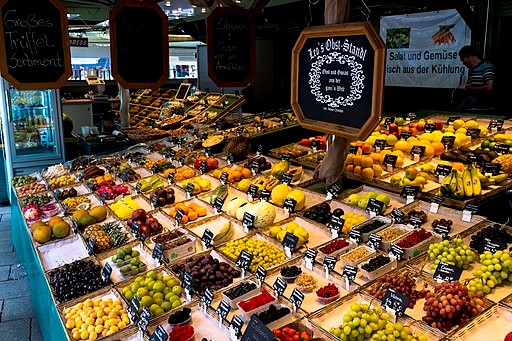 The Victual's Market in Munich is a market for agricultural produce, artisan goods and other food products since 1807. It has been open every day since then (except for Sundays) and still offers a wide variety of tasty treats. A stroll around Munich's most popular food market is a sensual revelation. Enjoy traditional home-made cheese, Bavarian sausages, sensational chocolate and delicious fruits! While tasting, you will hear about the market's history and presence. You will be offered samples of the different foods – enough to make your lunch!
Nymphenburg Castle and Park
Nymphenburg Castle (or Nymphenburg Palace) is the birthplace of King Ludwig II. of Bavaria, born there in 1845 and known as the "Märchenkönig" ("The Fairy Tale King"), who built Neuschwanstein Castle. For three centuries it has been the summer residence of Bavaria's Royalty and is still today the residence of Franz, Duke of Bavaria and head of the house of Wittelsbach.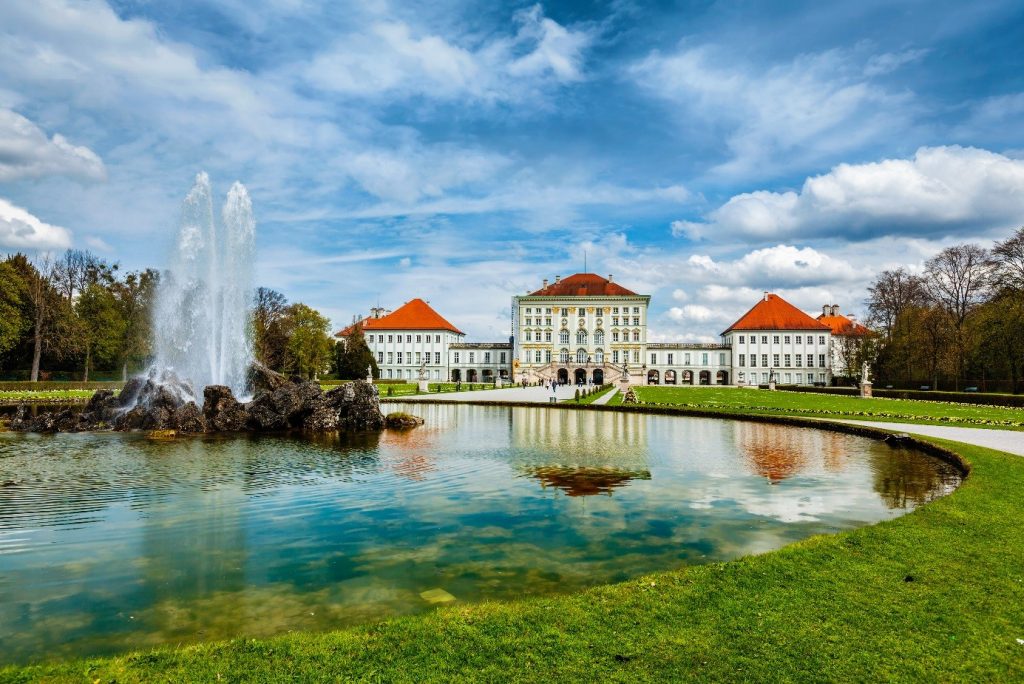 The construction of Nymphenburg Castle began 1664 under Elector Ferdinand Maria and his wife Henriette Adelaide of Savoyen. Over the years, several buildings were added. Today, its front is as wide as 632 m and the parks have a size of 200 ha. Gaze at the Baroque architecture from close up, explore the Palace from the beautiful baroque halls to the horse-stables and learn about a baroque monarch's household.
Please note: Minimum participants: 30
Price: 99 €
Included in Price: English speaking tour guide, all entry fees according to program, lunch with samples of different foods at the Victual's Market
Date: Friday, 24.02.2020
Departure from Bamberg: 08:00
Arrival back in Bamberg: between 20:00 and 21:00